Gwar: Worst Band Ever?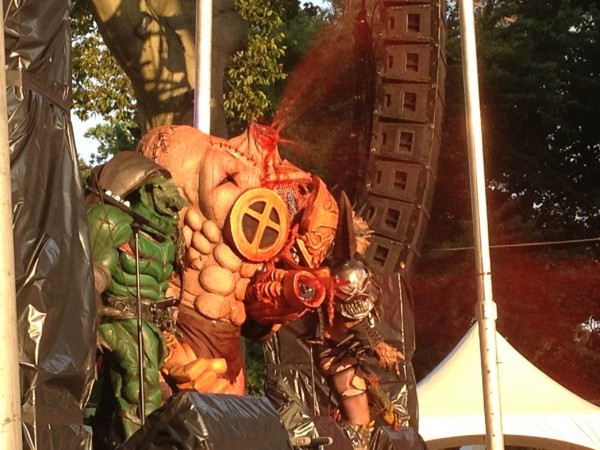 I saw the band Gwar at Merriweather Post Pavilion on Monday. Having only heard rumors that it's the worst band ever, I was there to verify it myself. Then again, that's part of the joke, though kudos to them for spraying fake blood all over fans and telling them to shut up after songs. They played on the small stage in the back, which was the first time I saw it put to use at this venue. Most folks showed up to see Marilyn Manson and Alice Cooper, anyway, which I'll post about later.
Other than the band, the only other interesting thing I saw that I likely won't forget was an actual skinhead (apparently by himself) being escorted out by security. Apparently, he was 'being way to aggressive,' but found that arguing about it was in his best interest. He was one of the scariest people I've ever seen. Intense, profane, built like a rock with a Nazi eagle back tattoo… crazy… One of the security guards, Josh Burdette, aka 'That guy from 9:30 Club" (who I went to college with) showed remarkable professionalism in dealing with this nitwit. I told him this. He died a few months later.
"Thank you, sir. That situation could have easily gotten ugly," he told me over Facebook. It was one of the few times I spoke with Josh, in person or online. "I'm glad we were able to resolve it without anyone getting hurt."
(Post updated Sept. 4, 2013 in light of Josh Burdette's death on Sept. 1.)